Engelbert Röntgen and the Gewandhaus
The Lipiński Stradivari's stay in the musical city of Leipzig, Germany began after the death of Karol Lipinski in 1861, when the violin was acquired by the Gewandhaus Orchestra violinist and soon-to-be concertmaster, Engelbert Röntgen, via the bow-maker and violin dealer Richard Weichold of Dresden. Ultimately it stayed with Röntgen and his descendants for three generations, eventually being taken to the Netherlands, the United States, and back to Europe.
Engelbert Röntgen was well established with the Gewandhaus in the early 1860s, having been a substitute violinist since 1850 during his student days. He became a full member in 1853, second concertmaster in 1869, concertmaster in 1873. He was born in Deventer, the Netherlands, in 1829, the oldest son of German merchant Johann Röntgen and his Dutch wife. Deventer was an old city that was also the birthplace of the early Baroque composer, Jan Sweelinck. Desiderius Erasmus, the Christian Humanist, studied in Deventer.
Röntgen studied violin from an early age, and studied painting intensively as well. Ultimately he gave up painting to concentrate on music. He moved to Leipzig at age 19 and entered the recently founded Leipzig Conservatory, where he studied with Moritz Hauptmann and Ferdinand David from April, 1848 until March, 1850. David's remarks attached to Röntgen's diploma mention his exemplary industry and seriousness and say that he had reached a very meaningful stage of preparation; in quartets he played excellently, and as a member of the orchestra ensemble he conducted himself likewise excellently. As a student, he worked with the Gewandhaus Orchestra from October of 1849, and became a member one year later, on October 1, 1850. Three years later he joined the orchestra pension fund. He remained with the orchestra for the rest of his life, and passed away in 1897, not long before he would have completed fifty years with the orchestra. He was feted by the Orchestra on his 25th and 30th anniversaries.
Röntgen married Friedericke Pauline Klengel, who was a pianist from an old Leipzig musical family. Her father, Moritz Klengel, was a violinist with the Gewandhaus. Their son and two daughters were musically trained and their son Julius became a pianist and composer. One of Julius' sons, also named Julius, later moved to New York—with the Lipiński Strad once owned by his grandfather Engelbert—to play in the Kneisel Quartet. Julius Jr.'s brother Engelbert was a cellist who eventually lived in Woodstock, NY and became the solo cellist of the Metropolitan Opera in New York.
Röntgen taught at the Leipzig Conservatory from 1857 until 1875. Seventeen of his pupils later joined the Gewandhaus Orchestra.
The Röntgen family maintained an active musical life. Ethel Smyth, the English composer, became friends with them in 1877 when she arrived in Leipzig to study at the conservatory. Her description of their family life is charmingly memorable:
". . . A few days before she left for London, Fräulein Friedländer took me to pay an eagerly awaited visit, for this was to be my introduction to the Leipzig music world. Again a climb up three pairs . . . of stairs, and an hour later, sitting at tea . . . with my new friends, Herr Concert Meister Röntgen, leader of the Gewandhaus Orchestra, and his family, I had found an answer to the question, 'What went ye out for to seek?' In those walls was the concentrated essence of old German musical life, and without a moment's hesitation the whole dear family took me to their bosom.

"It all began with a little sonata I had written, a certain B flat in which proved to be the key to their hearts. He was Dutch by extraction, distant cousin of the X-ray discoverer—as great a gentleman and as true a musician as I have known. She was of the old Leipzig musical stock Klengel, a family that could raise a piano quintet among themselves, and together with their Röntgen cousins a small orchestra. Every violin sonata, every piano trio or quartet printed, would Frau Röntgen or her daughter tackle—the mother's performance unplaned perhaps, but of a fire and musicality that carried all before it. Their one servant was seldom a cooking genius and always needed supervision, and between two movements of a trio Frau Röntgen would cry 'Line, thou canst take the Scherzo,' and fly off to the kitchen, Line (Caroline) replacing her on the music stool till eagerly swept off it again. I remember one occasion when dear old Papa Röntgen, as we used privately to call him, who had a delicate digestion, complained of the Egg-Dish (I do not know how else to translate that basis of German existence, die Eier-Speise), and his wife said with simple contrition, 'Yes, I know, it is my fault, I ought to have waited to see her brown it . . . but thou knowest how I love that Andante!'

". . . what most strikes me is the fact that very often of an evening these families would combine to make music among themselves. Not only that, but on every other Sunday members of the quartet Papa Röntgen led, the cellist of which was his nephew Julius Klengel, would come to his flat and play all afternoon. Sometimes of course they rehearsed one of their repertory numbers, but these meetings were mainly for the pleasure of making music. Then there was leisure in the world to love and practise art for its own sake, and that, that, is the tender grace of those dead days! . . .
The Gewandhaus Orchestra was (and is) a major cultural organization, and its premieres and triumphs are known. Concertmaster Röntgen would certainly have been present for the premiere of the Brahms violin concerto, for instance. That was given on Jan. 1, 1879 by Joseph Joachim, who created a somewhat unusual program by opening the concert with the Beethoven violin concerto. Brahms conducted, commenting that the two pieces together were "a lot of D major."
Less known, on the other hand, has been the history and activity of the Gewandhaus Quartet, which has now been studied in detail by Claudius Böhm.
Some background on the Gewandhaus Quartet: Matthäi and David
With its triple mandate to serve Leipzig as its municipal concert, theater, and church orchestra, the Gewandhaus was an intensely busy organization. An account sheet for 1890 has a row for each member with columns for their date of birth, pension fund status, and rehearsals and performances served in the theater, in the Gewandhaus, and in church (Jung). Herr Concert Meister Röntgen's total for the year is 215 rehearsals and performances. Some members have far greater totals, but he had many responsibilities in addition to performance in the three orchestral arenas. One of these was the quartet.
The Gewandhaus Quartet, composed of leading members of the orchestra, began to give public recitals in late 1808 and was instrumental in bringing chamber music to the attention of the Leipzig public. Recitals of chamber music had until then been held only in private salons. In the early years, the quartet was financially a private undertaking, mostly of concertmaster Heinrich Matthäi with a few other backers. Early performances were held in the Hotel de Saxe, and soon in the Gewandhaus itself. Matthäi remained in charge until his death in 1835. At that time, Felix Mendelssohn had just become music director, and wanted his trusted friend Ferdinand David as his new concertmaster. The Gewandhaus management decided to bring in some well-known musicians to apply for the position as well, the Donaueschingen court music director Johann Kalliwoda and Leon de Saint Lubin, royal theater concertmaster in Berlin. A letter was also sent to "Herr Lipinsky"—who owned the not-yet-named-Lipiński Strad—inviting him to apply, but his reputation was high and according to a report his demands were, as well. A concertmaster was urgently needed, and David was given an interim appointment. Mendelssohn, meanwhile, was demanding change, seeking full control over music as well as chorus.
Subscription quartet recitals played a significant part in David's application process, possibly because chamber music was an area in which he had significant experience and could expect to shine. He did not have concertmaster experience, having spent the last six years playing in a quartet in Tartu (Dorpat), Estonia. He presented three programs in late 1835, one week apart, with three Gewandhaus Orchestra members. The crowds were large, and after he was appointed concertmaster, the second cycle of quartet recitals that year had to be relocated from the Gewandhaus foyer to the concert hall itself.
David remained with the Gewandhaus Orchestra for almost four decades. The Quartet itself underwent many changes of line-up, including over 20 musicians during David's tenure. A major change in the Quartet's status occurred in 1840 when the Gewandhaus management took charge. The Quartet became no longer a private enterprise, but now presented official Gewandhaus "musical evening entertainments." One consequence was that the programs were able to include more guest appearances. Just as decades earlier the Gewandhaus had gradually established primacy for public concerts as opposed to church music, they now added the sphere of chamber music, responding both to its popularity and to their desire to keep up quality. This was the golden age of the private music salon, and sight-reading at recitals was not unknown. The line-up continued to be a challenge, with the most unstable period from 1847-1850 when the members changed as often as every two or three concerts. Joseph Joachim joined the orchestra and quartet during that period, aged sixteen, and Gade and Rietz, concertmasters both, were almost permanent guests. David seemed to like to change the line-up, perhaps to keep it fresh, and occasionally played viola instead of first violin.
Engelbert Röntgen and the Quartet
There was, however, a core of five who helped to keep things stable. Aside from David himself, there was Moritz Klengel, second violin; Carl Wittman on cello; Friedrich Hermann, who joined at 18 and played viola. Then in 1851 came Raimund Dreyschock, 26 years old, and Engelbert Röntgen, age 22, the second graduate of the Leipzig Conservatory to join the Quartet after Hermann. He took the second violin position in place of his eventual father-in-law, Moritz Klengel.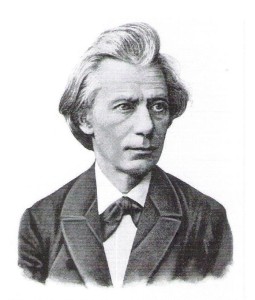 As an adjunct to his work with the orchestra and his teaching at the conservatory, Röntgen would remain with the Quartet for 33 years. His last performance with the quartet was in February, 1884. He had long since become concertmaster of the Gewandhaus (1873), and after leaving the quartet he remained in that position. During his initial fifteen years with the quartet, Röntgen was presented with a somewhat unusual situation. In order to persuade Joseph Joachim to remain with the orchestra, Gewandhaus management created a second opening for a concertmaster alongside Ferdinand David. Joachim ultimately left anyway, for an offer previously extended by Franz Liszt to go to Weimar. The additional concertmaster position remained, however, and was given to Dreyschock. David and Dreyschock played alongside one another in regular Gewandhaus concerts, but in the Quartet they took it in turns to play first violin, alternating events. Thus Röntgen had to adapt himself to two different first violins.
Existing programs for the musical evening entertainments make the quartet more real to us. Typically a quartet season consisted of eight performances arranged in two cycles. During Röntgen's years, Beethoven, Mozart and Haydn were played most frequently, followed by Mendelssohn, Schumann, and Schubert. Under David, some composers who had been popular in Matthäi's day faded from quartet repertoire—the two Rombergs, Dussek, and Ries seemed to vanish. David's favorite pieces were Beethoven's Op. 130, Schumann's quartet in A major, Op. 41, and the Cherubini string quartet no. 1 in E flat major. His favorite, however, remained the Schubert string quartet in D minor, "Death and the Maiden," with which he unknowingly bid farewell to his audience in March of 1873.
Often there was music that the quartet was performing for the first time. This was liberally distributed among the programs, but not evenly. During one streak from 1865 to early 1867, almost every performance includes first-time music. There is a piano quartet by Louis Ferdinand, Prince of Prussia, a quintet in C minor from 1817 by Beethoven that had previously escaped performance, a Gernsheim piano quintet (op. 6), the Brahms piano quartet in A major, a Bach sonata for piano and viola da gamba, transcribed for piano and cello. One program has three first-timers, a Hiller concert sonata, a Mozart divertimento, and a gavotte, sarabande and corrente by Hiller. Reinecke played a new sonata of his own the next month, and shortly after that Corelli's "Folies d'Espagne" for violin and basso continuo makes its first appearance.
There was other new music, in the sense of recently written. Usually this was performed by the composers themselves. In the first years of Röntgen's membership, new music included a sextet and a septet by Spohr, a quartet by David, variations, scherzo and march by Moscheles, a quartet in C minor by Bruch,the Op. 18 sextet by Brahms, a sextet by Gade, and a piano quintet by Reinecke, who was music director as well as frequent guest pianist. There is a sonata for piano and violin by Raff, an octet by Svendsen, a quintet by Naumann, and others.
Sometimes music was so fresh that it was still in manuscript form, again usually played by the composer. Soloists who came to Leipzig to play with the Gewandhaus Orchestra might be available to make an appearance with the quartet. Moscheles performed his sonata for piano and cello in 1851. Brahms played from manuscript in 1853 (see below). Anton Rubenstein began a four-year concert tour of Europe in 1854, and played his piano trio in G minor with the quartet while he was in Leipzig. The notes say that it was a manuscript performance, although he was known most often to rely on memory. On a return visit on Nov. 16, he led the Gewandhaus Orchestra in his Ocean Symphony. Hiller played an unpublished serenade and variations in 1855. In early 1856 there was a Rubenstein quartet in B minor, the following year, a new Hermann quartet.
On Jan. 14, 1854, the Quartet gave its first chamber recital devoted entirely to Beethoven, the first composer so honored. Another eleven followed over the next twenty years.  Mozart was also honored with an exclusive recital in Jan. of 1856 for the 100th anniversary of his birth.
The quartet was a useful base from which to create small ensembles, and it was customary to have a guest artist or to recruit additional players from the orchestra. One of the most beloved additions was a pianist, included in over three-quarters of the performances in Röntgen's time. Most often the pianist was Carl Reinecke, the music director, but he did not have a monopoly. Clara Schumann appeared twelve times from 1855 to 1875. Johannes Brahms came to Leipzig in his eventful year of 1853 when he was twenty years old. His first public appearance as pianist and composer in Leipzig was actually at a subscription quartet evening, not in a regular concert, where he played his sonata for piano in C major and his scherzo for piano in E flat minor. Hans von Bülow played Beethoven's Diabelli Variations with the quartet.
Reinecke made 54 appearances under Röntgen's leadership, playing both his own compositions and, more often, those of others. Many other pianists appeared, most likely when they were also making orchestral appearances: Clara Schumann continued her frequent visits, and Johannes Brahms came twice to the quartet—including his first appearance in Leipzig as noted above. The Gewandhaus musicians tended to be antagonistic to Brahms' music with the notable exception of Röntgen, who was an enthusiastic supporter. Anton Rubenstein has been mentioned. Edvard Grieg (later good friends with Julius Röntgen) visited, as well as Camille Saint-Saëns, von Bülow, and pianists Wiedenbach, Seiss, Hiller, Kleinmichel, Emery, Shirmacher, Marianne, Verhulst and Eibenschütz.  Engelbert's son Julius appeared twice during this period, as well as later. One program was almost a Röntgen family event: in February of 1883 the line-up consisted of three Röntgens, a Klengel cousin, and a singer, R. von Zur-Mühlen. C. Röntgen appeared several times; most likely she was the Röntgen daughter Caroline referred to as 'Line' by Ethyl Smyth. On that occasion they played Schubert, Schumann, Beethoven, and a sonata by Julius Röntgen for two pianos which was new and still in manuscript. As if to round off Röntgen's era with the quartet, at the end of 1884 the line-up of second concertmaster Henri Petri (that had begun to alternate with the Röntgen line-up) played a new quartet by Godard that was dedicated jointly to Röntgen and Petri.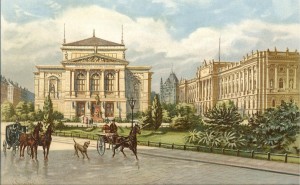 Upon David's death, Röntgen had taken the first violin role as well as becoming the orchestra's concertmaster. Due to the great press of orchestral obligations, he had played the first violin for one season, then followed David's example and shared the role with the second concertmaster, Heinrich Schradieck. The problem was that orchestral politics in relation to the city of Leipzig were tense. Feuding over the increasing burden placed on the orchestra reached its apex in the late 1870s and early 1880s. The New Theater had opened in 1868 and added large opera productions to its repertoire. In 1878 a complete Ring cycle, for instance, had to be supported by a 66-musician orchestra. The overburdening of the musicians contributed heavily to the quartet's frequent changes of personnel. Things became worse. The economic times, after a short, intense boom, entered into what was called the "Long Depression." Leipzig, however, still had plenty of wealth and the New Gewandhaus was opened in 1884 with a large auditorium and a small one that was modeled on that of the old Gewandhaus. At the opening in December, 1884, a surprise awaited chamber music fans: two quartets. The Gewandhaus Quartet appeared alongside the Brodsky Quartet, which was composed mostly of teachers from the conservatory. The Brodsky possibly seemed like the answer to a busy musician's prayer and in fall of 1884 began sharing recitals in the Gewandhaus. In the same year, Engelbert Röntgen, at the age of 54, left the quartet. He had led it for eleven years. The Brodsky Quartet alternated with the Petri line-up for several years. Ultimately when members left, they merged.
The situation continued, however, and even after Röntgen's death it was not solved with the activism and, ultimately, resignation, of the succeeding concertmaster, Felix Berber. In 1902 Berber turned to the city council as court of last resort, since they were the official employer of the musicians. He wrote them that the concertmaster's job entailed being a totally reliable leader in the orchestra, performing outstanding artistic work as a soloist and above all being the leader of the Gewandhaus Quartet, and said that unless the theater responsibilities were split off, it simply couldn't be handled by one person, as previous concertmasters had also known. To no avail; the council accepted his resignation instead. It was the unsatisfactory conclusion to thirty years of upheaval that included constant changes of quartet personnel.
For Engelbert Röntgen it had been the existing state of affairs for most of his career. He passed away on Dec. 12, 1897, shortly after his annual performance of the exacting violin solo in the Benedictus of the Missa Solemnis, which had been on Dec. 9 that year. According to Ethyl Smyth, he returned home in something of a dreamlike state, commenting that for the first time, he had been completely satisfied with his performance.
It was the end of an era. The Musical Times of Jan. 1, 1898, announced the death of "the highly esteemed leading violinist of the Gewandhaus and the State Theater. He was a pupil of David at the Leipzig Conservatory, and for many years a professor there himself. Rarely appeared as a soloist due to his nervousness. Highly cultured musician and violinist of the first rank. He was the author of some valuable critically revised editions of the violin compositions of Bach and Beethoven. His son Julius is well known as a pianist and composer." Signale für die musikalische Welt wrote that his death signified the Gewandhaus' loss of "the last pillar of a glorious yet bygone period, the last custodian of the so beneficial traditions of Ferdinand David."
© C. Sminthe 2013
Ethyl Smyth, The Memoirs of Ethyl Smyth, abridged edition by Ronald Crichton, 1987, from her original material published 1919-1940
Doris Mundus, "Erinnerung an Engelbert Röntgen," Gewandhaus Magazin, Nr. 17, Winter 1997-98, p. 44-45
Hans-Rainer Jung, Das Gewandhaus Orchester, Seine Mitglieder und seine Geschichte seit 1743, Leipzig, 2006
Claudius Böhm, Das Gewandhaus-Quartett und die Kammermusik am Liepziger Gewandhaus seit 1808, Kamprad, 2008
Grateful acknowledgement is made to William Allmart for his research into the history of the Lipinski Stradivari which provided new insights, and for unraveling its continued stay with the Röntgen family.
Julius Röntgen, Pianist and Composer
The eldest child of Engelbert Röntgen and Pauline Klengel, Julius Röntgen was born in Leipzig in 1855, when his father was a violinist with the Leipzig Gewandhaus Orchestra, not yet concertmaster. Julius grew up just around the corner from the church of St. Thomas, where J. S. Bach had worked for years. He was something of a musical prodigy and did not attend school. He and his two sisters were schooled in music by their parents and grandfather, and by private tutors in other subjects. His first piano teacher was Carl Reinecke, the music director of the Gewandhaus Orchestra.
In Julius's childhood home there was music at the highest level every day.  Ethyl Smyth described Pauline and Julius playing the piano:
"Their son Julius, composer, viola-player, pianist and all the rest of it, became a conductor and head of a Music Academy at Amsterdam, but Line took to marriage and babies and rather dropped her music. To see Julius and his mother playing pianoforte duets was a sight that would nearly overwhelm strangers, the motions of their spirits being reproduced by their bodies in dramatic and absolutely identical gesture. This is what made the spectacle so curious; you could not believe but that some unseen power was manipulating a duplicate set of invisible wires. At the tender parts of the music they would smile the same ecstatic smile to themselves, or in extreme cases at each other; in stately passages their backs would become rigid, their elbows more slightly away from their sides, and their necks stiffen; at passionate moments they would hurl themselves backwards and forwards on their chairs (never sideways, for they respected each other's field of action) and the fervour or ferocity of their countenances was something I have only once seen equaled—by Sada Yacco's rejected admirer on the Japanese stage.

". . . There was one more belonging to that household, a dear Swedish girl called Amanda Meyer [sic], violinist and composer, who afterwards married Julius; and then for the first time I saw a charming blend of art and courtship very common in those days. Thus it must have been in Bach's time, thus with the old Röntgens . . .
Julius began composing at the age of nine. His first compositions were influenced by Carl Reinecke, and later the influence of Robert Schumann, Franz Liszt and Johannes Brahms is noticeable. At 14, he wrote a violin duo that was performed by his father and Joseph Joachim. Around that time, he made his debut as a composer and pianist in Düsseldorf. He also visited Weimar to perform some of his piano works for Franz Liszt, and was warmly received by the old master. At 18, he started his professional career as a pianist, making a tour with the singer Julius Stockhausen in the southern part of Germany.
At the age of 22, Julius made a difficult choice between Vienna and Amsterdam, and began teaching at the Amsterdam School of Music. Later he became a co-founder of the Amsterdam Conservatory, and served as director for twelve years. During this period he carried on an active life as a pianist and choral conductor, and in 1884 performed Brahms' second piano concerto under Brahms' direction. Julius was also involved with the design and construction of the Concertgebouw, and suggested that the committee travel to Leipzig to study the construction of Gewandhaus Hall, known for its good acoustics. In 1888, Julius conducted one of the final concerts in Amsterdam's old hall, Felix Meritis, and the second concert in the new Concertgebouw. He was also in the running to become the director of the new Concertgebouw Orchestra; that he didn't get the job was one of the few disappointments in his career.
In 1880, Julius had married Amanda Maier, a Swedish violinist who had studied at the Leipzig Conservatory with Engelbert Röntgen. They had two sons, Julius Jr., who became a violinist, and Engelbert, a cellist. Julius and his family spent summers in Denmark, where he became close friends with composers Carl Nielsen and Edvard Grieg. At Fuglsang, the manor house and estate of Bodil and Viggo De Neergaard, the Röntgens and their hosts lived in an ideal musical and natural world for at least a month each summer, practicing in the daytime and performing in the evenings with other guests. Röntgen remained close to Grieg as well, and went to Norway to visit him whenever possible; their correspondence is extensive.
Sadly, in 1894 Amanda died after a long illness. Three years later, to the joy of all, he married Abrahamine ("Mien" in the correspondence) des Amorie van der Hoeven, a gifted piano teacher. They eventually had four sons, two of whom, Edvard Frants and Frants Edvard, were named for Grieg (Grieg had castigated him for the less than euphonious sound of the first version, and Julius had promised to correct it with a subsequent child), and he wrote Grieg humorously that he had "completed his sextet."
Although somewhat overshadowed by his distant cousin Wilhelm Conrad Röntgen (1845-1923), discoverer of X-rays and winner of the first Nobel Prize in Physics, (Danish newspaper announcement: "Prof. Röntgen arrived today; not the famous one") Julius Röntgen enjoyed a long and productive career. His 650-odd compositions include 21 symphonies, 7 piano concertos, 2 violin concertos, 14 piano trios, 16 string trios, more than 20 string quartets and a host of other works.
Throughout his life, he was a remarkable pianist, both as a soloist and a chamber player. When—or possibly earlier—Julius Jr. returned in 1912 from his years with the Kneisel Quartet, Julius and his two sons from his first marriage formed the Röntgen Trio and did some touring. In retirement, his architect son Frans (the one of the sextet that "got away" although he was a good amateur flute player) built his father a large country home, "Gaudeamus," with an unusual round music room that had a suspended floor that did not touch the ground. There Röntgen continued to compose, and hosted many musicians such as Grieg, Pablo Casals and Percy Grainger. Whereas he had begun his musical life in the Leipzig classical tradition, in retirement he studied Hindemith, Stravinsky, Schoenberg and Pijper, and even wrote atonal music.
In Röntgen's obituary in The Times, Donald Francis Tovey wrote:
"…Röntgen's compositions, published and unpublished, cover the whole range of music in every art form; they all show consummate mastery in every aspect of technique. Even in the most facile there is beauty and wit. Each series of works culminates in something that has the uniqueness of a living masterpiece…"
Julius's father, Engelbert, had died in 1897. His violin remained in the family. Julius took it to W. E. Hill & Sons for a check-up on the advice of Joseph Joachim in 1899. Caretta and Francais in Paris saw it in 1904 and noted that the Lipiński was a "very beautiful" and "alluring" violin. Nevertheless, it stayed with the musical Röntgens. Julius gave it to Julius Jr., who played it for a quarter century. The violin's life remained centered on the Röntgens for almost sixty years, until it moved on in the early 1920s.
© R. Ruggeri 2013
© C. Sminthe 2013
Ethyl Smyth, The Memoirs of Ethyl Smyth, abridged edition by Ronald Crichton, 1987, from her original material published 1919-1940
Julius E. F. Röntgen, Lecture to the Norwegian Embassy, Oct. 20, 2000
Juliusrontgen.info/sr_english/page1/page1.html
Finn Benestad and William H. Halverson, ed. and trans., Edvard Grieg, Diaries, Articles, Speeches, Columbus, 2001
Jurjen Vis, Gaudeamus. Het leven van Julius Röntgen, Amsterdam, 2007
Thanks to William Allmart and the Röntgen family for confirmation in 2009 that the violin remained in the family.
Jurjen Vis, "Fuglsang as a musical crossroads: paradise and paradise lost. Röntgen, De Neergaard, Grieg and Fuglsang," Amsterdam, 2011
Seen at griegsociety.org/filer/1635.pdf
The Julius Röntgen Society: http://ahowe1.tripod.com/juliusrontgensocietyuk/index.html
Amanda Maier-Röntgen
Too often, the old music of women is new.
Some people wonder why the term "female composer" is even used anymore. Surely over the centuries we've developed a sophistication that allows us to judge works solely on musical value, rendering the age, gender, race, sexuality, and personality of composers irrelevant. The fact that there are only a handful of works by dead female composers in our canon doesn't mean that our ancestors made mistakes when deciding what to leave us. It simply means that generations of fair and balanced review determined that music by women did not attain the objective quality necessary to enter serious concert life.
To engage with the work of a dead female composer, and to praise it highly, is to question that entire train of thought. It is to ask tough questions about the origin and foundation of our canon and our heritage. This feels like a tremendously risky thing, like pulling out a shiny apple from the bottom of a supermarket fruit display. Once we acknowledge that our ancestors missed out on worthy pieces for whatever reason (sexism? racism? a general inability to know what their descendants would find interesting?), we open up a universe of old music that is new music. As we do so, we start thinking about words like "great" or "immortal" or "masterpiece" in new ways. Hopefully, we listen with fresh ears.
It turns out that valuing music by women isn't just about valuing music by women. It's about addressing questions of tradition and canon, and ultimately, the very definition of musical worth.
It seems like everyone who knows Amanda Maier Röntgen's b-minor violin sonata loves it. It is ebullient, delicate, emotional. It is smart. Its musical language is tinged with accents of Schumann and Brahms and Mendelssohn, but it also feels fresh and original. You could present it in a recital with the great violin sonatas of the late nineteenth century and it would hold its own quite nicely.
If it's so great, why isn't it in the repertoire? There are no easy answers. Because Amanda was a woman? Because Amanda was young when she wrote it (in her very early twenties)? Because she was young when she died (in her very early forties)? Because she was a mother and spent time raising her kids? Because she had health problems (some connected to pregnancy)? Because she wrote primarily for chamber ensemble, and we seem to care more about composers who worked with orchestras? Because not enough violinists championed the sonata in its early years? Because Schumann and Brahms and Mendelssohn are objectively that much better? (You see what I mean when I say that wrestling with works by women is not just about the women.)
Whatever the reasons, it certainly wasn't because Amanda Maier lacked connections. She was born in February 1853 in Landskrona, a town in the south of Sweden, a stone's throw from Copenhagen. She was incredibly musically precocious, and before she was out of her teens she was studying violin, cello, piano, organ, composition, and harmony at the Royal College of Music in Stockholm. By 1873 she was studying at the Leipzig Conservatory, the alma mater of such lustrous names as Grieg, Janáček, Albéniz, and Delius. While there, she took violin lessons from Engelbert Röntgen, concertmaster of the Gewandhaus Orchestra, and composition lessons with Carl Reinecke (a student of Mendelssohn, Schumann, and Liszt). The list of names and dates and accomplishments is dizzying, and it also begs more questions about Amanda. Was she proud of achieving so much so quickly? What did it feel like to be a woman in a man's world? Was she worried about balancing a career and marriage?
Just as there are holes in our knowledge of Amanda the person, there are holes in our knowledge of the relationship between her, her violin teacher, and his family. But thanks to another forgotten female composer by the name of Ethel Smyth, we have a few tantalizing glimpses into Mr. Röntgen's household. Smyth was an Englishwoman who studied in Leipzig in the 1870s and wrote a memoir about the experience called Impressions That Remained. (She was the writer who came up with this unforgettable, oft-quoted description of Brahms: "if [women] were pretty, he had an unpleasant way of leaning back in his chair, stroking his moustache, and staring at them as a greedy boy stares at jam tarts.") In Impressions, Smyth writes warmly of the Röntgen family, especially relishing in describing their impassioned chamber music sessions. In the chapter that covers autumn 1877, she writes about Amanda:
There was one more belonging to that household, a dear Swedish girl called Amanda Meyer [sic], violinist and composer, who afterwards married Julius; and then for the first time I saw a charming blend of art in courtship very common in those days.
Assuming Smyth was remembering the correct year… Was Amanda lodging with her violin teacher at this point? If so, was it common for Röntgen to shelter young students, or was Amanda just special? The answers are no doubt in Europe, but as of today, they've yet to surface in English online or in books. Thankfully, surely it's only a matter of time before we know more.
What English-speaking researchers can find out online and in books, though, is that Amanda studied at the Leipzig Conservatory from 1873 to 1876, and her time there was hugely productive. In 1874, she composed the fabulous b-minor violin sonata. She mused in a letter that the sonata was "a little wild" and that when played well it was "not bad, as anything I have heard and done in Leipzig." It's encouraging that, unlike many other female composers, she apparently recognized the value of her own work. There is a record of her playing the sonata in Leipzig in April 1875 with her violin teacher's son, pianist Julius Röntgen. (The performance was noted because Grieg was in the audience.) Her ambitions expanded, and in 1876, she premiered her one-movement violin concerto, which was played nearly forty times over the next few years. The concerto has been revived a few times in the 2010s. It is a tuneful and appealing work that, for whatever reason, lacks the electric spark of her sonata. In 1877, the Swedish Art Music Society agreed to publish the sonata. They apparently suggested some alterations to the slow movement, but she politely and firmly responded, "I have become so much a part of it as it stands that I would quite certainly have difficulty in making any changes… So I would prefer if that Sonata could be left unaltered." As if this compositional activity wasn't enough to keep Amanda busy, in the late 1870s, she also toured as a violinist throughout Sweden, Norway, Finland, and Russia. This no mean feat: in the 1870s, female violin soloists were only just beginning to be widely accepted.
Professional success came hand-in-hand with romance. Her pianist and violin teacher's son, Julius Röntgen, soon fell in love with her, and she with him. In her memoir, Ethel Smyth recounts the night they got engaged in the late 1870s:
The next great festival, seeing the Old Year out, was celebrated by me at the Röntgens'. We had a grand feast, with sweet champagne in very long, narrow glasses that held nothing, pate de foie gras, and hot punch, a red essence of some unknown alcoholic derivation, mixed to one's taste with boiling water. I noticed as on many subsequent occasions that Frau Röntgen, whose digestion was magnificent, picked all the truffles out of her helping of foie gras and put them on her husband's plate, a proceeding that dear man took quite as a matter of course. After supper we all sang part-songs in which I was tenor, when not bass, and it was remarked by Papa Röntgen that the more punch was drunk the more I pushed up the pitch, an interesting effect of alcohol which makes one think that to hand it round before certain a cappella pieces at concerts would be a good plan. On that day Julius and Amanda became officially engaged, and I had my first wondering view of untrammelled German demonstrativeness.
The two were married in 1880. The following year, Amanda gave birth to her first son, Julius, Jr., who, like his mother and grandfather, became a distinguished violinist. Several miscarriages followed, but eventually another little boy survived, this one named Engelbert. He wound up serving as principal cellist in orchestras in New York and Minneapolis, and ultimately landed the seat of principal cello at the Metropolitan Opera Orchestra.
Pregnancy, motherhood, and the string of miscarriages seem to have affected Amanda's health. She wrote a variety of chamber music (some of which remains unpublished), but her compositional output appears to have dwindled. That being said, she was a Röntgen, so she was never going to give up music entirely. She remained intimately connected to the musical world, holding salons with such luminaries as Brahms, Anton Rubinstein, and violinist Joseph Joachim. In 1884, Julius helped found the Amsterdam Conservatory, so the young family moved to the Netherlands. That same year, Julius gave an early performance of Brahms's second piano concerto (a piece dating from 1881) with the composer on the podium, one measure of how highly Brahms thought of him. That high regard extended to his wife, who became a friend of Brahms's.
Amanda's young life took a tragic turn in 1887 when she was diagnosed with tuberculosis. In search of pure air that could save her, the family traveled throughout Europe, including stops in Davos and Nice, but in the end nothing could be done. Her eyesight was failing as well, and in 1891, she wrote her last composition – a piano quartet – with the assistance of Julius because she couldn't see well enough to write. In July of 1894, after a long struggle, she died in Amsterdam.
In the early 1990s, after some study, Amanda Maier Röntgen's violin sonata emerged from a purgatory of Swedish archives. The first commercial recording appears to have been made by Bernt Lysell on violin and Lucia Negro on piano. This recording was made in 1993 and released the following year. Violinist Gregory Maytan tackled the b-minor sonata on a 2009 disc. Strad Magazine reviewed the performance and the piece favorably, even proclaiming it "CD of the Month" and labeling the piece "the real discovery here." In December 2009 blogger Elaine Fine wrote about discovering the sonata: "While seeking out material for our annual March concert of music written by women, my pianist friend randomly came upon a sonata for violin and piano by Amanda Maier in the World Cat. After the first two measures we both agreed to postpone our previous choices for this year's program for another year, and spend a few wonderful months with Amanda Maier." In 2010 the sheet music appeared on imslp.org, meaning the sheet music is available for any adventurous violinist and pianist to tackle…for free. Today, a few recorded versions even exist on Youtube. It is easy to imagine this charming, compelling work standing on the edge of a surge in popularity. If it is, a more complete English language biography of the remarkable Amanda Maier Röntgen will no doubt follow. It's going to be fascinating reading.
There is a sad part to knowing that "old music by women is new music", and there is a happy part. The sad part is self-evident. It is sad knowing that this hidden gem was exactly that: hidden. It is sad thinking of all the talented musicians who never had a chance to explore the score. It is sad knowing that generations of aspiring female composers were denied knowledge of a brilliant forerunner. It is sad to think of this piece waiting alone in dusty archives, the world robbed of the joy and beauty it could have brought.
But the happy part is: we are now the ones who have the privilege to make things right. We have a chance to snatch that apple from the bottom of the supermarket display and enjoy delicious chaos as preconceptions tumble all around us. With luck, the old work of Amanda Maier Röntgen and other women like her won't be new to us much longer.
© Emily Hogstad, 2016
Julius Röntgen Jr. and the Kneisel Quartet
Violin historians were never certain where the Lipiński Strad spent the quarter-century following the death of Engelbert Röntgen until recently, when the current Röntgen family provided the answer. Engelbert's grandson, Julius Jr., wrote in an unpublished memoir that his grandfather had been "an excellent violinist and a well-educated musician . . . he owned one of the most beautiful Stradivarius violins . . . which I later played myself for twenty-five years." That would have been approximately from 1897 to 1922.
Engelbert Röntgen's son, Julius, had been born in 1855 in Leipzig. He became a pianist, composer, and co-founder as well as director of the Amsterdam Conservatory. His two sons with Amanda Maier, herself an excellent violinist, were Julius Jr., who became a violinist, and Engelbert, a cellist who later emigrated to the US. Amanda died, and eventually Julius married Abrahamina des Amorie van der Hoeven and had four more sons. When the last was born he wrote to his friend Edvard Grieg that he had completed his sextet. Julius named two of his sons Edvard Frants and Frants Edvard in honor of Grieg.
Julius Jr., the son of composer Julius and grandson of Gewandhaus concertmaster Engelbert, was born in 1881 in Amsterdam and grew up there. He studied music in Berlin with Joseph Joachim from 1900-1903. He studied further in Amsterdam with Bram Eldering and Carl Flesch, then went to Duisberg as concertmaster. He next became concertmaster in Düsseldorf. He also made concert tours as a soloist in Germany, Holland and Scandinavia until 1907. In that year he moved to New York to join the famous Kneisel Quartet. He remained with the quartet for five years. In New York he also taught violin at the newly founded (1905) Institute of Musical Art, the predecessor to Juilliard.
In 1910 the New York Times wrote on the occasion of the quartet's 25th anniversary (the anniversary concert was given in Boston's Chickering Hall and repeated in New York)  that "no musical organization in America holds a higher place in the development of music in this country or in the affections of music lovers than the Kneisel Quartet. The history of the quartet means, in a large measure, the history of chamber music in this country." Before Franz Kneisel came to the US to be the concertmaster of the Boston Symphony and establish the quartet, "there had been no very serious attempts to establish a chamber music organization in this country."
Victor Danek notes that the quartet was the most active and most renowned, and had the greatest influence on the development of chamber music in the US in the late 19th and early 20th centuries. Its musical heritage could be traced directly back to Beethoven via the teaching lineage, which went from Jacob Gruen and Joseph HellmesbergerJr to Joseph Böhm, then to Joseph Mayseder, who with his own teacher Joseph Schuppanzigh played Beethoven's quartets under Beethoven.
For those who might be interested in the financial side of quartet management, there were five guarantors, who, at least in 1909-10, received one private concert each. The budget was $35,000 per year, of which Franz Kneisel made $9000, the violist and cellist $6000, and the second violin $5000.
The quartet had more stability in its line-up than the Gewandhaus Quartet had been able to achieve during much of the nineteenth century. Franz Kneisel and Louis Svecenski remained as first violinist and violist for the entire life of the quartet. The second violin and the cellist changed several times. The first concerts were given in Boston, and eventually a regular series was established in New York. The quartet gave many works their first US performances, including quartets by Franck, Debussy, Ravel, Fauré, Duvernois, d'Indy, Dohnanyi, Borodin, and Dvorak. During Julius's years alone, they gave first performances of the Giovanni Sgambati piano quintet in B flat major, op. 5, Max Reger's quartet in E flat major, op. 109, Sergei Taneyev's quartet in D minor, op. 7, the quartet by Frederick Stock in C minor, op. 6. Of music by American composers in particular, they gave first performances of Rubin Goldmark's quartet in A major, op. 12, Courtlandt Palmer's piano quintet in A major, op. 37, and David Stanly Smith's quartet in E minor, op. 19.
Julius's years of 1907-12 coincided with the most active period of the quartet. There were 42 guest performers and frequent tours. In 1907-08 alone they gave at least 74 concerts, travelling to New England and to the Midwest. Among other places, they toured Wisconsin several times during those years and played in Appleton, Eau Claire, Madison, Milwaukee (three years in a row, 1909-11, plus other visits outside of Julius' years), Oshkosh, and Wausau. In the very busy year of 1909-10 they visited west of the Mississippi, appearing in Denver, Colorado Springs and Kansas City among others. Over its lifetime the quartet visited thirty-one states, Canada and England.
The Grieg quartet in F major was an interesting collaborative experiment. Julius Röntgen, Sr, as Grieg's musical executor and good friend had completed the third and fourth movements from the sketches that Grieg had left. The first two movements had been almost complete at Grieg's death and had received only a few touches from Julius. Those two they played in New York in December, 1908. As was generally the case, the New York Times was rapturous at the quartet's performance that day—"Schumann's quartet was played with the most complete insight into its poetic beauty and its romantic spirit, and with such a melting fullness and loveliness of tone, such a perfection of balance, of phrasing and nuance, such impeccable purity of intonation, as even the Kneisel Quartet can command only in its happiest moments"—and so on—but the reaction to the movements written most fully by Grieg was lukewarm and they were seen as tuneful but perfunctory in development. Perhaps he hadn't finished them to his satisfaction. The third and fourth movements completed by Julius Röntgen were played by the quartet several weeks later in January of 1909. The Times reviewer was impressed, finding the task skillfully done, characteristic of Grieg, but somehow more agreeable than the first two movements. Later that year, in Oak Park, Illinois they played the two reconstructed movements, and in St. Louis they played the entire, combined quartet.
Also in 1909, the New York Times reported on a quartet concert and how enthusiastic the capacity audience was, particularly about ". . . Bach's concerto for two violins, played by Mr. Kneisel and Mr. Röntgen, with the accompaniment of a small string orchestra; another work of supreme nobility and beauty, the performance of which was marked by a splendid energy and commanding authority. It was the first time that Mr. Röntgen has had opportunity to show his powers outside the frame of quartet playing, and his performance was admirably paired with Mr. Kneisel's in breadth and dignity of style and beauty of tone. The performance had unity of spirit and a broad and compelling sweep that gave great delight to the audience." As Julius Jr. noted in his memoirs, Kneisel played a Stradivari also and two such instruments were very favorable for the quartet's sound. "The quartet always had a good press. For me it was of great advantage to have my grandfather's Stradivarius."
Julius left the Kneisel Quartet in 1912 and returned to Holland to form the Röntgen Trio with his father Julius and brother Engelbert. He taught violin both in Rotterdam and at the Amsterdam Conservatory, where he remained until his retirement in 1945. He still played chamber music, but had sold the Lipiński Strad in the early 1920s. It changed owners four times in the following decades, finally coming to Evi Liivak in 1962.
© C. Sminthe 2013
"Twenty-five Years of Chamber Music," The New York Times, March 13, 1910
"The Kneisel Quartet; Beethoven, Bach and Brahms Played at its Second Afternoon Concert," The New York Times, Feb. 24, 1909
"The Kneisel Quartet. Posthumous Movements by Grieg Played for the First Time," The New York Times, Dec. 16, 1908
"The Kneisel Quartet. First of Their Two Afternoon Concerts Given in Mendelssohn Hall." The New York Times, Jan. 20, 1909
A Historical Study of the Kneisel Quartet contains interesting and detailed material. Victor B. Danek, dissertation, Indiana U., 1962.
Grateful acknowledgement to William Allmart for researching the continued stay of the violin with the Röntgen family.
The contemporary Julius Röntgen maintains a website with information about his grandfather Julius, the composer www.juliusrontgen.info