When I first began playing on the
Lipiński
back in 2008, there was a fair amount of speculation regarding its provenance and history. To most aficionados the violin had "disappeared" for a couple of decades, which was a bit unusual for a 1715 Stradivari. It also became obvious that a modern, technically advanced recording had never been made of this violin; most everything seemed to be either on cassette or reel-to-reel from the '70s or earlier. As it happened, I was planning a recording right around then (
Portraits and Elegies
, on the wonderful
Innova
label), and that CD became the de facto return of the violin to the modern audio landscape.
But the concept of this current project was already germinating in my head, and by the beginning of 2012 it seemed the pieces were falling into place. To my knowledge no one had ever attempted something like this in a comprehensive way, and I felt this was a perfect vehicle for a site like Kickstarter. After a few delays I got the campaign going in May 2012 and it ran for 60 days.
It was truly heartening to learn how many other people agreed it was a compelling project (via their donations), and the campaign's success allowed us to proceed in exactly the fashion I'd hoped. The CD was recorded over three days in August 2012 with the team from a couple of previous recordings, and by mid-March 2013 I actually had one in my hand. The repertory was specifically chosen for its most obvious historical connections- Tartini (the violin's first known owner), Lipiński, a premiere recording of a sonata by the underrated Julius Röntgen (see tab above), and Lipiński fan/colleague Robert Schumann.
I'd like to once again thank Bill Wolfram, Evans Mirageas, Ric Probst, the Juilliard Library, AVIE, the Milwaukee Symphony, and the Milwaukee Youth Arts Center for all the support and hard work. And of course we could never have done it without the devoted Kickstarter donors.
I hope you enjoy both the recording and website devoted to this exceptional violin.
~ Frank Almond
I had always hoped that
A Violin's Life
would eventually be a multi-volume project, but also understood that would depend on a number of factors. The 2013 release was received with much enthusiasm, certainly far more than I'd anticipated; I immediately began thinking of repertory for Volume 2, and perhaps even beyond.
The events of January 2014 simultaneously curtailed and accelerated those plans. As my life turned upside down within a few hours, it was difficult to imagine ever even seeing the Lipiński again, let alone playing it. Miraculously, ten days later it was back in my hands, relatively unscathed.
Amid a media frenzy and lots of new security protocols, I was determined to finish what had already looked to be a busy season, but was so physically and psychologically exhausted that another recording project was out of the question. A few months later I'd planned it all out, but as usual there were a lot of moving parts to the puzzle, and I was still navigating the legal issues related to the theft until February 2015. Nevertheless, I was stubbornly resolute that we'd do another volume, hopefully during the 300th anniversary season.
So here it is, hopefully a testament to the survival of great music played on a great work of art, even amid events no one could have possibly imagined back when I started this endeavor in 2012. I am of course quite relieved to be alive and still playing this superb violin, and my gratitude has only increased throughout the challenges and triumphs of the past two years.
~ Frank Almond
Violinist Frank Almond holds the Charles and Marie Caestecker Concertmaster Chair at the Milwaukee Symphony Orchestra. He returned to the MSO after holding positions as concert master of the Rotterdam Philharmonic with Valery Gergiev and guest concert master of the London Philharmonic Orchestra under Kurt Masur. Other guest concert master appearances have included the Seattle Symphony, the Montreal Symphony, and the Dallas Symphony. He continues an active schedule of performances in the US and abroad and has appeared as a soloist with internationally renowned conductors including Edo de Waart, Pinchas Zukerman, Stanislaw Skrowacewski, Philippe Entremont, James Gaffigan, and many others.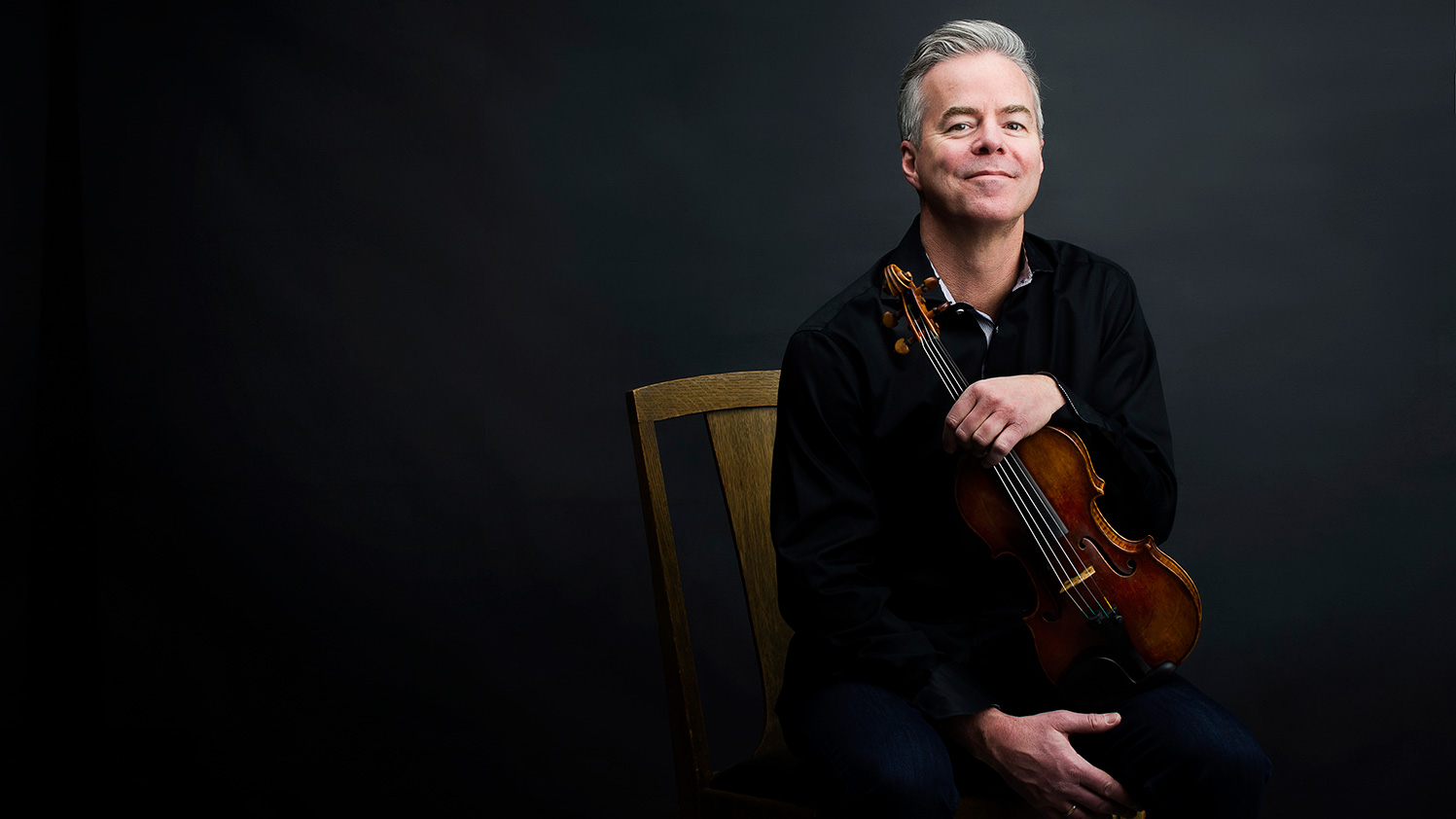 He was a member of the chamber group An die Musik in New York City since 1997, and also founded and directs the acclaimed Frankly Music chamber series based in Milwaukee. At 17, he was one of the youngest prizewinners in the history of the Nicolò Paganini Competition in Genoa, and later was one of two American prizewinners at the Eighth International Tchaikovsky Competition in Moscow, documented in an award-winning PBS film.
In addition to his work with An die Musik, Frank Almond's work as a chamber musician has generated collaborations over the years with many of today's top institutions. He has recorded for AVIE, Summit, Albany, Hal Leonard, Boolean, Innova, Newport Classic, Wergo and New Albion, and was twice nominated for a Grammy with An die Musik.
Frank Almond holds two degrees from the Juilliard School, where he studied with Dorothy DeLay. Other important teachers included Michael Tseitlin, Felix Galimir and Joseph Silverstein. He has held several academic positions and is currently on the faculty at the Chicago College of Performing Arts at Roosevelt University.